December 17, 2020
---
From the Chairperson's desk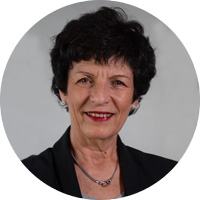 From the Chairperson's desk
Just let's remember! A little less than a year ago, no one had heard of SARS-COV2. When it arrived, the world was shocked! Unthinkable. Yet researchers, doctors and caregivers have rolled up their sleeves to fight this new disease and take care of patients. Science has been experienced 'live' by everyone with its hypotheses, its discussions, its errors disclosed to the public. We have lived through an exceptional medical moment with people who invested themselves in the fight against the disease in unprecedented proportions. Science has spread at a speed never seen before. In less than a year, the first vaccines are starting to be distributed. Obviously not everything is perfect, people in all countries are still suffering from the disease and its consequences, some more than others because of their conditions. But science and medicine are here, and are our most trusted allies. I want to express our gratitude to those who from the bench to the patient's side are dedicating themselves to the care of patients, to the researchers who work tirelessly to ensure we work our way out of the pandemic as well as to all patient leaders in the world who ensure evidence-based scientific information can be spread in plain language. Thank you!
As always, education is and will remain an important tool in a world moving so fast and so unexpectedly. IPOPI is fully committed in this area and in the last months we have invested tremendous efforts in educational activities ranging from our Global Patient Meeting with the best attendance ever, to our webinars on diverse clinical issues including on very rare PIDs, and to finalising our next series of (forthcoming) leaflets which will focus on new topics to complement our broad collection whose success remains constant! In addition to this, we were delighted to have a fantastically attended 2-day patients and doctors meeting in Kyoto (well somewhere "in the air" above Kyoto), and are very pleased to see that since then our Japanese patient organisation has held its own webinar: congratulations to them and also to our other members who dedicate so much time and energy to meet the needs of their patients, as you will read further in this newsletter!
As much as education is needed, so is advocacy! IPOPI is very proud of the PID Life Index, created to measure the environment of PIDs in different countries with regards to gold standards established by a group of international physicians and patient leaders. This interactive tool is here to support discussions and advocacy efforts to raise the bar when it comes to access to care and diagnosis for PID patients in different countries. Sometimes this also means ensuring that countries, appropriately, implement what is stated in their law, when it comes to health coverage as an example. The PID Life Index is a living resource which we are committed to continuously improve. So, please come back to us with your comments, suggestions or add your country!
In addition, we have worked to ensure PIDs are more and more present in relevant policy agendas, with our Forums at the European parliament or through our great representation at EMA, the EU being a great example for rare diseases when it comes to access to both diagnosis and treatments. As for our work on access to early diagnosis, we are very happy and proud of the great cooperation we have established with ISNS and ESID within Screen4Rare which aims to initiate a regional action on newborn screening that will ultimately help and support countries to develop or optimize their own newborn screening programmes for rare diseases like SCIDs. Not to forget our commitment in continuing our work with APEC in ASIA and LATAM.
The need to ensure appropriate access to IG therapy is not new but has been further intensified by the pandemic.
Research is another priority area where we have been very active during the last months and RECOMB is certainly a great example of a long lasting and successful cooperation on a subject synonymous with hope for many of our patients: gene therapy.
Last but not least, access to immunoglobulin therapy is more than ever a top priority for IPOPI. Impossible to rest on this! The need to ensure appropriate access to IG therapy is not new but has been further intensified by the pandemic. Firstly, the pandemic has emphasised the need to collect more plasma but also the risk linked to the geographical imbalance in plasma collection, and the world's reliance on plasma coming from the USA and a handful of other countries. Secondly, because this risk is becoming a reality with many patients already affected by tensions or even shortages of their lifesaving treatments… And even if health policy makers throughout the world are acknowledging the problem, important changes remain to be implemented and the horizon remains unclear from the daily perspective of our patients! This has led IPOPI to set up a new Task Force called "S.A.F.E." (for Safe Access For Everyone). Whose members; IPOPI board members and prominent PID physicians are committed to monitoring the situation, taking any appropriate action to support the necessary changes that patients with PIDs and all those without any alternative treatment need so much!
As we have now reached the end of this tumultuous year 2020, may the coming weeks bring you happiness, comfort and joy. Allow yourself to rest, to share with family and friends (even if online!), and to be hopeful, like I am. For a recovering 2021, which we know will still have its share of uncertainty, but will also bring us the tools we need to gradually make our way out of this global crisis, all together and stronger than ever!
Happy new Year!
---
Martine Pergent
IPOPI Chairperson