December 19, 2022
IPOPI Thai Primary Immunodeficiency Meeting
---
On 22 November, IPOPI welcomed 200 participants to a fantastic doctors' meeting dedicated to discussing the latest developments in primary immunodeficiencies in Thailand. The hybrid meeting was held in Chulalongkorn Memorial Hospital in Bangkok and online and was co-organised with Care-for-Rare and the Faculty of Medicine at Chulalongkorn University.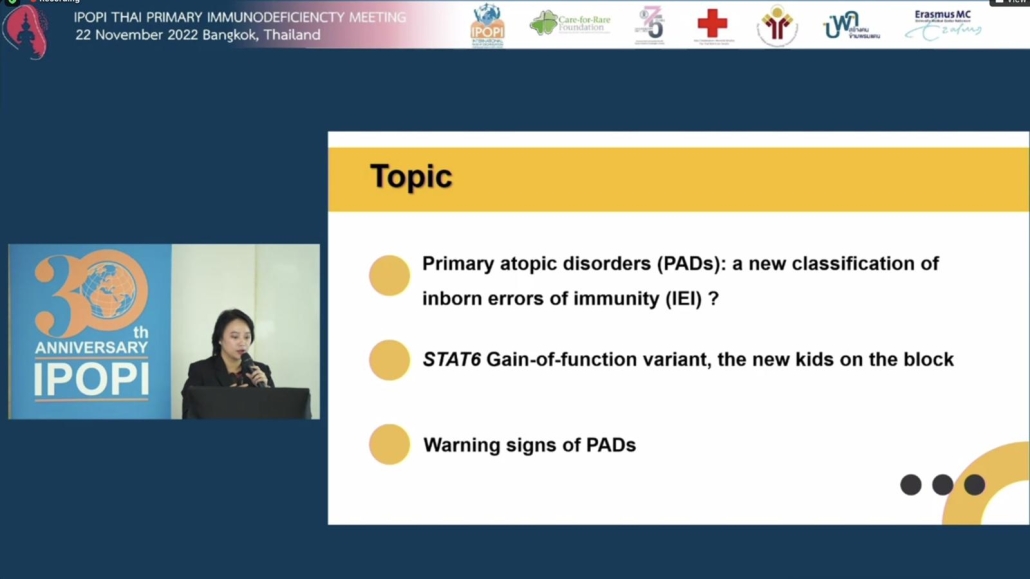 The exciting programme featured various key speakers who presented important subjects such as an introduction to the JAK-STAT pathway (including recent findings identifying novel gain of function (GOF) variants in STAT3 and even STAT6), JAK inhibitors in PIDs and autoinflammatory diseases, gene sequencing in PIDs among others. In addition, the effects of COVID-19 and vaccination against SARS-CoV-2 in PID patients were discussed and the recently characterised disease "anti-IFNγ autoantibodies associated immunodeficiency syndrome" was introduced. Lastly, an interesting hypothesis was presented on inborn errors of immunity (IEI) having contributed to the extinction of Neanderthals.
On November 23, IPOPI also hosted a patients´ meeting with members of ThaiPOPI to work on their development and discuss solutions for the country for improving the infusion service for IVIG and access to vaccination for PID patients.
IPOPI is deeply grateful for all the support toward this meeting provided by the Care-for-Rare Foundation, Faculty of Medicine Chulalongkorn University; Allergy, Asthma and Immunology Association of Thailand (AAIAT); Erasmus University Medical Center; Program Management Unit for Human Resources & Institutional Development, Research and Innovation (PMU-B) and Thai Patient Organisation for Primary Immunodeficiencies (ThaiPOPI).
More information about the meeting and its outcomes will soon be made available here.
This meeting was made possible thanks to the support from Grifols.