October 4, 2021
---
From the President's desk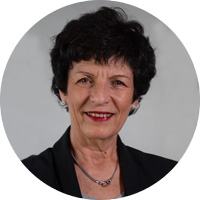 From the President's desk
It's Autumn, with a glimmer of hope on the front of the pandemic for the first time since almost two years. The world has learnt much on this. Management of COVID-19 is improving, and vaccines are proving their efficacy. Alas, the situation remains very heterogenous when it comes to accessing them …
Access to diagnosis and care is at the heart of IPOPI's work, this is the sense of our continued effort on advocacy. Our last European forum addressed the status of curative treatments for PID patients with a fruitful discussion on whether the EU Cross-Border Healthcare Directive may help make these treatments more accessible to them.
The other important issue for advocacy is newborn screening (NBS) and our commitment in the organisation of two milestone events at EU level: the Launch Meeting of the ERN Expert Platform on NBS and the Slovenian Presidency Event on NBS, as part of its collaboration with the International Society for Neonatal Screening (ISNS) and European Society for Immunodeficiencies (ESID) under the Screen4Rare initiative.
We have also successively continued our educational webinars addressing transition care, and calculated globulins thanks to the commitment of MAP members and experts in these fields.
Another important milestone has been reached with the launch of 4ID, a web-based App aimed at supporting patients in keeping track of health data and of their treatment on their digital devices. This project is a work in progress, as we want this app to adapt and evolve along with the users' expectations.
Right now, we are running a campaign in the frame of the International Plasma Awareness Week, where five short videos will present PID patient's views on plasma derived medicinal products and what these mean for them.
Our national members can react on this or use their own initiative, each one of us are very aware on the need the world has for plasma and of the importance for patient organisations to be vocal on this vital need.
I would like to take the opportunity to congratulate DSAI, our German member, and AIP, our Italian member, who celebrate their 30th anniversary this year! I am impressed by your work. Very well done and greetings to the founders and the members for having, year after year, built a strong patient organisation and making the difference for the patients in your country!
While we remain virtual, we had the great pleasure in having our African Patient meeting, back-to-back with ASID's congress. In fact, it was a hybrid meeting, with patients attending in person from Khartoum, Sudan; with other countries attending online.
We are currently in the final stages of preparation for the upcoming Latin American meeting, that IPOPI organises back-to-back with LASID's congress.
Of course, we can't wait for IPIC, next April, where we fortunately will be able to meet in person!
But on this all… We will elaborate on in our next newsletter, in the meantime, I wish you continued happy reading.
---
Martine Pergent
IPOPI Chairperson