March 31, 2020
Where to next? – Birmingham for the GPM
The XVI IPOPI Global PID Patients Meeting will be taking place this year in Birmingham, UK, between October 14-17, back to back with the European Society for Immunodeficiencies (ESID) and International Nursing Group for Immunodeficiencies (INGID) biennial meetings! The IPOPI Board members and staff members are preparing a great programme and monitoring closely the COVID 19 situation to ensure IPOPI's National Member Organisations (NMOs) are welcomed at the best Global Patients Meeting (GPM) yet.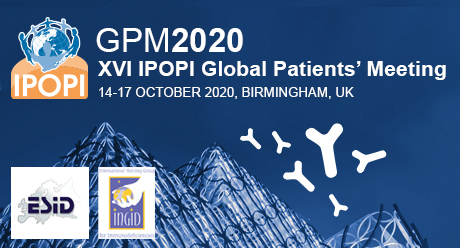 IPOPI members can look forward to taking part in a skills-building programme, built up based on their feedback from the last GPM, with several interactive workshops, medical lectures and pharmaceutical industry sessions on immunoglobulin access, all designed to meet their needs and help them better manage their National groups.
The GPM programme is always designed to facilitate a lot of interaction between members allowing them to share experiences and take back home new ideas to put in practice. This year will be no exception. IPOPI is carefully monitoring the COVID 19 evolution and, if necessary, will find alternative solutions for those coming from regions by then affected to still participate. Stay tuned to IPOPI's e-News and social media for more updates!
The GPM will also be the opportunity for IPOPI members to come together and celebrate our PID champions during the 'IPOPI PID Champions Awards Ceremony'. During this gathering, the LeBien Award (which distinguishes an adult who has improved conditions for people with PIDs internationally) and the Luciano Vassalli Award (which distinguishes a young person's contributions to the PID community) will be handed out to two champion PID advocates representing two generations.
On the morning of October 17, the meeting will be closed with a fun social programme currently being planned.