March 31, 2020
---
From the Chairperson's desk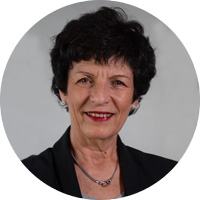 From the Chairperson's desk
Under the current circumstances, the thoughts that come immediately to my mind go to all the people who are affected by the SARS-CoV-2, the health professionals who fight against this virus and all those who contribute to maintaining life "as normal as possible" in the countries where confinement is required. We're going through unexpected times where even those who are knowledgeable and experienced mainly say they don't know enough and where our patient community is scared. This is the first time in a very long while that a virus sends the entire world into such a difficult situation to manage: facing a threat that we don't know much about, that may be under estimated, that puts our health care systems in trouble, and where we all need to accept to learn as we go. This is true for the general population, and even more for PID patients. Because PIDs are rare conditions which affect the immune system, it is a huge challenge to determine if our patients are more susceptible to this infection or not. Fortunately, from what we can see until now, PID patients with no comorbidities do not appear to be more at risk than the general population. But this will need to be further assessed! This is the reason why IPOPI supports a global survey launched by physicians (from our medical advisory panel, ESID and IUIS among others) aimed at collecting data to understand the impact of COVID-19 infection in people with PID. For now, the best things to do are to remain cool headed, to strictly respect our medical experts' guidance as well as the one from our PID national or regional expert societies, and more than ever to ensure patients' adherence to treatment.
When it comes to treatment, IPOPI has taken action at the very early stages of the pandemic, in order to anticipate the possible consequences of this major crisis on treatment availability. Availability of all treatments, and especially biological ones whose supply relies on human raw resources and, in the first place, immunoglobulins.
What if? Donors stop donating plasma, despite their good will, because they are scared or because of the confinement measures many countries have taken?
During the last PLUS(1) stakeholders meeting held in January, we brainstormed fictional case study scenarios which could disrupt plasma collection and supply of plasma derived medicinal products including a political issue that could stop plasma traveling cross-border or a virus outbreak that would harm plasma donation. We were far from thinking that it would literally happen less than two months later! And here we are!
What if? Donors stop donating plasma, despite their good will, because they are scared or because of the confinement measures many countries have taken?
We have in recent weeks been liaising closely with industry (both with the fractionators and the PPTA2) to whom we are thankful for their proactive approach on the situation as well as with many other relevant stakeholders including with relevant authorities and other stakeholders such as our medical specialists. Hats off to the scientific and medical global community that was able to endorse a joint statement with IPOPI in a record time. In addition to this, many NMOs have released national recommendations more specifically adapted to their national context. Bravo to all!
We, all patient leaders, work very hard to improve the lives of people living with a PID. Just take a look at the newly updated Patient and Family Handbook for Primary Immunodeficiency Diseases of IDF from the United States which is a fabulous resource really worth reading or on another note the initiative of ThaiPOPI, our national patient organisation in Thailand to raise awareness on PIDs among medicine students. Amazing! We are also strongly committed to ensuring the availability and affordability of medicines especially those which rely on the donation of other people like for immunoglobulins, platelets and blood. Have a look at the initiatives of our national member organisations in South Africa, in Germany and in France!
Fortunately, crisis or not, life continues and more than ever we need to plan. Short term plans go to WPIW. IPOPI is strongly committed to supporting its NMOs with their WPIW campaigns and projects. It will be for sure a special year, a 10 week celebration for 10 years of global commitment. 10 weeks and maybe more, it doesn't matter, we all need to react according to the best timing in our country: INACTION is not in our DNA. Let's adapt our plans and make 2020 a great year for WPIW, let's hear the patients' voice. Because more than ever we are living a paradox, on one hand the progress of science means precision medicine and individualized approaches to care are extremely beneficial to improve patients health and our individual existence, on the other hand we need to unite and think of our community as a whole to improve conditions for all.
And looking ahead as a group and even better as a community, we are currently working hard to prepare our next Global Patients Meeting in Birmingham, in parallel to the ESID and INGID congresses, where we will all meet as a strong and focused community! We count on you to be there!
But before that, we will have another opportunity to catch up with the summer edition of IPOPI's e-News, and by then we will hopefully be entering a new era, the era of post COVID-19 crisis. Please keep us posted on the ongoing PID work in your countries, in your fields.
Happy reading, and please take care!
---
Martine Pergent
IPOPI Chairperson
[1] Platform of Plasma Protein Users
[2] Plasma Protein Therapeutics Association