December 17, 2019
---
From the Chairperson's desk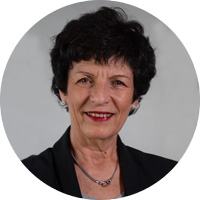 There is something about looking at another year, and even a new decade, that encourages reflection. On the past and on the future.
A look back to the last quarter shows our growing activities on awareness and advocacy and among these, we organized IPIC2019, the 4th edition of the International Primary Immunodeficiencies Congress!
IPIC2019 was held in Madrid and gathered numerous physicians and PID community stakeholders from 70 countries around a high quality scientific programme designed to review key diagnosis and clinical care developments in the field of PIDs. Science is incredibly fruitful in our field, as evidenced by the announcement that well over 400 genes have been identified by the IUIS who, in fact, have very recently published their new classification describing 456 PIDs. So, it is of utmost importance to understand how all this scientific knowledge is translating into the clinical setting, how it will impact health care professionals and healthcare providers practices' and finally how it will benefit patients in their daily life. IPIC is all about this, the knowledge and practices from the best physicians in the world shared with an enthusiastic audience who wants to learn, share (213 abstracts!), update, network, in a friendly atmosphere. Read more about the congress in this edition of e-News and please note that a more detailed congress report is being prepared and will be released in early 2020. We are also delighted to announce that IPIC2021 will be held in Berlin (Germany) on November 3-5, 2021, save the date!
Still on awareness, IPOPI was very active in organising a national PID meeting in Hô Chi Minh City, Vietnam, with a very successful 2-day programme, gathering around 100 physicians and 70 patients/family members. It is truly inspiring and very rewarding to see the physicians' commitment to diagnose and fight for access to care, hand in hand with families and patients increasingly committing themselves in organising actions for the good of the national PID community. On its way to Vietnam, IPOPI had a stopover in Kuala Lumpur, Malaysia, where we were pleased to co-organise with MSAI (the Malaysian Immunology and Allergy Society) the 11th National Clinical Immunology Symposium (NACLIS)/2nd International Conference on PID with the great input of Bruce Lim, IPOPI's Treasurer and Chair of the Malaysian patient organisation (MyPOPI). Malaysian physicians advocate to get immunology recognized as a specialty, to be in a better position to attract new physicians and also to improve the situation of patients when it comes to diagnosis and following up. Asia, as well as Latin America and Africa, are regions where IPOPI has been putting a lot of effort and energy and where we are witnessing progress in diagnosis and access to care. Of course, access to care often remains problematic, especially for adult patients who see their right for health denied, the concept of chronic rare conditions being still poorly considered in many societies.
Now, coming to advocacy, one of the strengths of IPOPI and its network of NMOs, IPOPI works on advocacy campaigns and programmes at different levels, internationally, regionally and, at times, nationally. It is worth noting several developments which have recently taken place at EU level. Firstly, IPOPI has been, once again, accepted as an EMA eligible organisation having complied with all required criteria to continue to actively engage with the agency.
The European Union (EU) has been instrumental in launching policies for rare diseases and IPOPI has historically been a strong player in these discussions. We continue to place PIDs (among rare diseases) high on the agenda and ensure, by engaging decision makers and making them aware of the reality of these diseases and their treatments, that frameworks and overarching guidelines will be produced and best practice will be shared in order to facilitate policy implementation at national level, so that each country in each region doesn't need to reinvent the wheel, thus saving time, resources… and lives"
A good example of this are the newborn screening actions that IPOPI has been driving in the European Union (EU) for around ten years now, most recently with the organisation of a 13th very successful EU PID Forum on newborn screening for rare diseases, in cooperation with the International Society of Neonatal Screening (ISNS) and the European Society for Immunodeficiencies (ESID) – thank you to Dr Peter Schienen and to Prof. Isabelle Meyts. I would like to warmly thank 4 Members of the EU Parliament in particular MEP M. Pizarro, MEP S. Pietikäinen, MEP T. Metz and MEP I. Joveva for their invaluable support and enthusiasm in co-hosting this forum and in launching a call to action to help countries optimise their newborn screening practices sooner rather than later! On this topic, congratulations to Denmark who will soon join, after Germany and Sweden, the club of the few but growing number of EU countries that have implemented newborn screening for SCID at national level.
Another important step in our advocacy efforts has been on plasma collection and immunoglobulin supply. IPOPI is actively advocating for improved access and for global plasma sufficiency of plasma derived medicines based on regionally balanced plasma collection. Here, we call for policy decisions based on facts and science that realistically seek to identify solutions, as PID patients are facing difficulties in accessing their IG treatments due to plasma supply tensions or even shortages in some countries. At this stage, we need to look at facts and launch concrete actions, not global declarations that sound nice but haven't proven to be efficient in any way for years. Because we deal with biological medicines, based on human plasma, we need to better balance the sourcing of plasma, to meet the increasing patient needs and for contingency reasons. This means that Europe must reconsider openly the way plasma collection works in this part of the world: take a step back and identify a more pragmatic approach based on what works and will make a real difference for patients. IPOPI carries this same message in different regions which all face different challenges, an example of this are our increased interactions with APEC (Asia Pacific Economic Cooperation).
The future is both bright and challenging. We will undoubtedly continue to advocate, to make sure the PID patients' voice is heard, listened to and considered, in the most open and cooperative way.  
At this end of the year, I would like to address my special thoughts to all PID patients and families and especially those -still too many- who struggle to access the treatments they are entitled to. We hope that our actions and those of our wonderful NMOs give you hope and make you this promise: we will not stop!
Now to our readers and your beloved ones, I wish you all happy holidays and a peaceful happy new year. Be ready for an active, invigorating and inspiring 2020!
Martine Pergent
IPOPI Chairperson